Curriculum Reform: transforming the student experience through trans-disciplinary collaboration
Since 2012, staff and students of the Royal Conservatoire of Scotland have observed a transformation in the nature of the institution through the introduction of trans-disciplinary collaboration into the curriculum, making us distinct in the UK conservatoire sector, given our breadth of disciplines. The roots of the project were founded in an institution-wide recognition that the career paths of professional performing artists in the UK, and further afield, depend increasingly on an ability to work productively in collaborative and trans-disciplinary environments, and to demonstrate experience of working in such environments. The project also served to unify institutional understandings of artistic quality by establishing a Conservatoire-wide matrix of descriptive benchmarks upon which every programme – from modern ballet to jazz, stage production to education, classical music to folk – would base their assessment criteria. This nurturing of trans-disciplinary collaboration and more equitable recognition of artistic quality in service to all the Conservatoire's art forms has led to a more integrated and enriched student experience.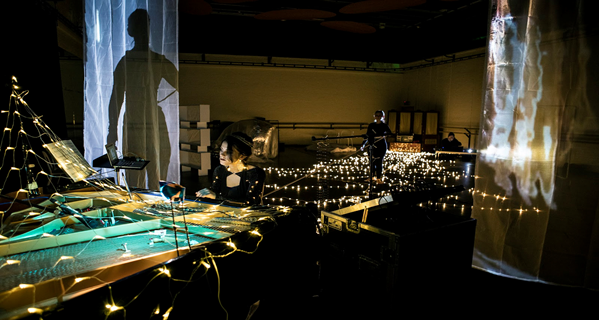 This process was called 'Curriculum Reform' and was undertaken between 2008 and 2012, with the resulting trans-disciplinary, collaborative curriculum being rolled out across the Conservatoire's diverse degree programmes in the latter year. As an example of the possibilities that students are afforded to develop in this context, in 2017 a western art pianist curated a trans-disciplinary final recital, collaborating with actors, ballet dancers and production students, with her own discipline as the central focus of the assessment process, as illustrated above.
Collaboration is an essential part of my artistic practice and some of my most rewarding learning experiences have come from collaborating with fellow students across the various areas of study.

Year 4 student
Below are some specific examples of the Conservatoire's collaborative environment in action as a result of Curriculum Reform, whether in terms of formal curricular features or natural creative serendipity that the Curriculum Reform project has enabled.
Introduction To Collaborative Practice
'Introduction to Collaborative Practice' was a core module which all students across the Royal Conservatoire, regardless of specific degree programme, were required to take in their first year of study, from 2012 to 2018. Through this module, the curriculum facilitated creative collaborations that integrate modes of thinking and working from different disciplines, thereby encouraging inclusiveness, a sense of artistic community, nurturing mutual curiosity and laying the foundations for further collaborative skills in subsequent work.
Students were divided into groups of 10-15, and arranged so that each group comprised as wide a range of Conservatoire degree programme disciplines as possible. For example, a typical group consisted of a Western art violinist, a ballet dancer, an actor, a Gaelic traditional singer, a stage prop maker, a classroom music teacher trainee, a production designer, a Scottish Highland bagpiper, an opera singer, a filmmaker, and so on. The module's creative encounters always culminated in a performance in front of an audience of peers.
The module was effective in the sense that it created an environment in which students of vastly different artistic backgrounds, disciplines and aspirations were required to work together toward a common performance goal that they must themselves devise, using the articles of the UN Declaration of Human Rights as a broad creative catalyst.
However, certain issues relevant to the integration of diverse viewpoints and practices emerged fairly quickly. Students encountered this module at a point in their artistic and professional development when by and large they had not worked in a multi-disciplinary team before. Finding and articulating their own voice in the creative process, therefore, was very challenging for many.
Most challenging in this respect seemed to be the relative 'blank slate' given to students once the philosophical and operational principles had been communicated to students at the module's outset. The groups were by and large tasked to work autonomously, albeit within rehearsal spaces and times that were arranged on their behalf by administrators; this was in order to allow them maximum creative control and space to learn in-and-through the process. In practice, it was not uncommon for students of a more introverted nature to react negatively to such working conditions, in which they were compelled to devise, get along with, and contribute artistically to, a large multi-disciplinary team of strangers. This challenge was compounded when it involved students whose first language was not English or who represented a non-Western cultural background.
Such conditions were, however, ultimately controlled and subject to monitoring by module teaching staff, who always ensured that the process of creating and performing a work concluded with each group undertaking a reflective debrief session, facilitated by staff, in order to jointly and individually take stock of lessons learned and the experience's impact on their future artistic choices. Despite the above issues, this experience brought an enhanced appreciation of other cultures and artistic perspectives, as well as a new perspective on one's own practice. Experience of this kind of trans-disciplinary work benefited students in an increasingly complex professional world and helped them develop the quality of creativity, flexibility and teamwork they need to succeed. This module has since been refined through experience and feedback, resulting in its current successor, 'Learning to Collaborate'.
Bridge Week
Bridge Week provides a further extra- or non-curricular opportunity for students to collaborate across disciplines (and cultures) and create new work together. Since its inception with Curriculum Reform in 2012, students have been responsible for creating over 140 self-generated projects. These have included a world premiere 360-degree projection mapped venue, a new musical, numerous short film projects and several productions that have gone on to perform at the Edinburgh Festival Fringe. In addition to rehearsal and performance space, students are given technical support, resources and a small budget, and most importantly the freedom to get on and create. Through this experience, students have the opportunity to further develop the skills needed for enterprise, employability and collaboration. The students who get involved in Bridge Week see it as a highly valued opportunity, and was commended during a consultation with the Student Union Council.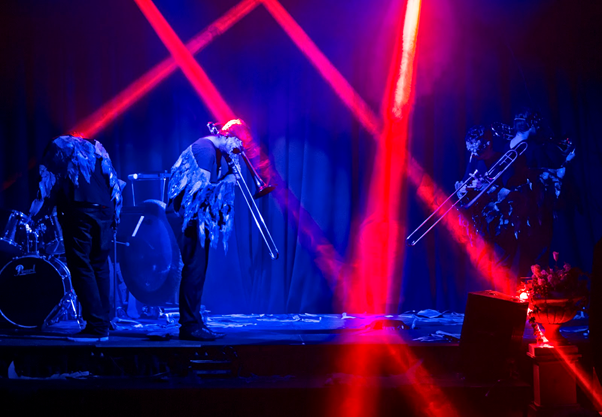 Like similar accounts of student-centred, intensive and non-curricular junctures in the academic calendar given in this blog series (see, for instance, NextDoors Interdisciplinary Project Week), the Royal Conservatoire's Bridge Week takes place annually and allows students to bid, advertise and negotiate resources and spaces in service to creative projects of a collaborative and often socially-engaged nature. The projects see little staff involvement beyond the bidding and allocating process.
Braw Brass
Braw Brass ('braw' is Scots for great) is an ongoing collaborative project from the Brass and Traditional Music departments of the Royal Conservatoire of Scotland. Led by Jenn Butterworth (Lecturer in Practical Studies) and John Logan (Head of Brass), Braw Brass features a high-energy band of traditional musicians and a ten-piece brass ensemble. The musicians are all students within the Brass and Traditional Music Depts on a rotating basis and to date have performed in Scotland, Brazil and Canada. A sample of Braw Brass's work can be heard at https://soundcloud.com/jennbutterworth/braw-brass-taster.
Braw Brass arose in the wake of Curriculum Reform, whose set of Graduate Attributes included collaboration as a key element; we were being allowed to bring into the institutional setting that which happens professionally in the wider scene, the same collaborative experience as the student would expect professionally.

Jenn Butterworth and John Logan, 2018
The Highlands & Islands Suite, 2017
Folk musician, composer, and producer Phil Cunningham's Highlands and Islands Suite received its world premiere as the Opening Concert for Celtic Connections in 1997. To mark its 20th Anniversary, this work, which combines folk and orchestral music, was staged again in the Main Auditorium, Glasgow Royal Concert Hall on Sunday 22 January 2017. There were 195 musicians and singers performing together on stage, combining Scottish folk and traditional artists (inc. bagpipes, clarsachs, accordions, fiddles, Gaelic and Scots singers, etc) and Western or conventionally orchestral and choral artists.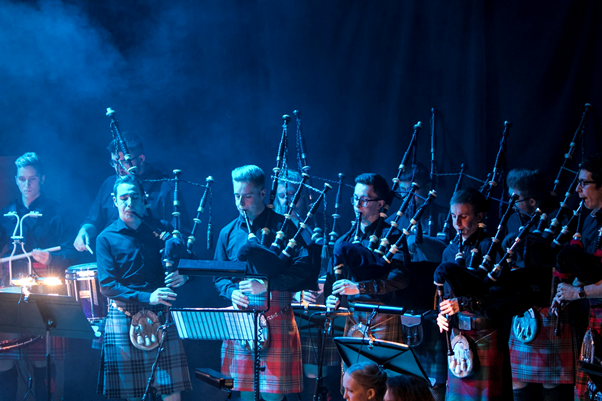 Curriculum Reform has transformed the student experience at the Royal Conservatoire of Scotland since its inception in 2012, leading to a greater degree of cross-disciplinary collaboration among programmes, departments, students and staff. This in turn has opened up more opportunities for autonomous inter-disciplinary learning among peers through events like Bridge Week, supported by core fixtures in the institution-wide curriculum like Learning to Collaborate.
These steps have helped to democratise institutional understandings of artistic quality by establishing a Conservatoire-wide matrix of descriptive benchmarks upon which every programme would base their assessment criteria. This has led to a greater nurturing of trans-disciplinary collaboration and a more equitable recognition of the plurality of artistic quality in service to all the Conservatoire's art forms.
___________________________
This article is a part of the publication titled How are diverse cultures integrated in the education of musicians across Europe? Other chapters can be found here.