Engaging with Communities: Am Ende. Leben and MiMiC
Reaching out to and engaging new audiences is one of Creative Europe's priorities for funding and developing projects in the cultural world. The European Commission states in its Study on Audience Development that it is also clear that cultural institutions and their venues are unintentionally often designed for 'traditional' audiences and don't reflect the actual social environment and complexity of the societies they operate in.
While most musical promoters cater for audiences in concert venues such as halls, clubs, festival stages, churches, etc, live music often does not reach out to people who cannot make their way to such venues. Elderly and seriously ill persons are often immobilized and confined to their beds in hospitals or special care homes. This part of society constitutes an often neglected but important part of the general audience. Higher Music Education institutions catering for the needs of their graduates should always look at new perspectives of the job market of future professional musicians. Music in health care as an artistic practice can become a part of contemporary musicians' portfolio career. This post explores two case studies based on this practice.
Am Ende. Leben
Am Ende. Leben is a project of Kunstuniversität Graz and the Krankenhaus der Elisabethinen, a Graz-based hospital. Bachelor or Master students of instrumental pedagogy and jazz perform for terminally ill patients in the palliative care ward. The project is structured in three steps:
First, hospital representatives give a half-day workshop at the University about the special environment of palliative care and working with people who only have a few days left to live. The workshop also confronts the participants who are in their early 20s with their anxiety related to death. Music can enhance the quality of life at any stage.
In the second step, the project group visits the hospital with a short guided tour and a talk about palliative medicine and what effects live music can have in such an environment.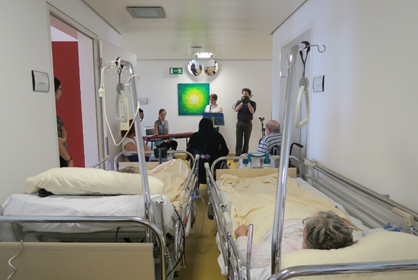 In the third and last step, the group plays a set of 45 minutes in front of a small audience of patients who can attend and hospital staff. Patients can be rolled in their beds to an open space where the ensemble plays. Sometimes doors are left open so patients can hear the music but are not directly exposed if they don't want to. The music is carefully chosen to suit the special environment (for example, hard rock and heavy metal are avoided) and to a large extent improvised. A moderator (teacher) asks whether somebody has a wish or picture or story that the ensemble shall then make into a musical piece.
MiMiC – Meaningful Music in Health Care
Meanwhile, another project engaging audiences in a healthcare environment, similarly improvised but taking place over a longer period, has been established in the Netherlands: MiMiC (Meaningful Music in Health Care) is an interdisciplinary project of the research group Lifelong Learning in Music of the Prince Claus Conservatoire in Groningen and the University Medical Center Groningen. The aim of this project is to have professional musicians create meaningful live music experiences for people staying and/or working in hospital. A typical MiMiC project takes place six days in a row on one particular surgical ward in the hospital.
A team of three musicians creates 'in the moment' improvised pieces of music for a patient or a group of patients, where possible together with their nurses. Alongside person-centred improvisation, the musicians perform pieces of repertoire from different genres of music or play an idiomatic improvisation (i.e. the musicians don't have the actual piece wished for by the patient on their repertoire but improvise one in a similar style). Patients are also sometimes invited to conduct the improvisation, thereby getting a sense of control back, which is often lost when one is admitted to hospital.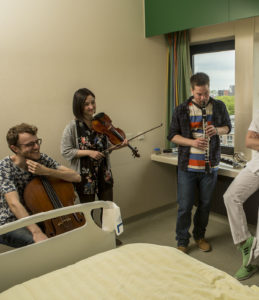 In the research, the UMCG explores how interactive live music sessions can contribute to the well-being and recovery of elderly surgical patients, through physiological measurements, scales and questionnaires of patients on their experienced pain, stress and anxiety before, during and after each music intervention. The LLM group researches – how these sessions can contribute to the well-being of the health care professionals, – what professional skills musicians need for interacting within this context, and – what learning and (professional) development of musicians emerges. LLM uses participant observation, interviews with musicians and nurses, and musicians' reflective journals.
Outcomes
For the patients and staff involved in Am Ende. Leben, the pieces are a unique and personal gift. This builds upon the fact that the distinct quality of each moment is important in both improvised music and in the life of a terminally ill person. For the players, improvising offers a profound learning experience (e.g. how does one spontaneously transform a wish from outside and one's emotions into sound in a collective ensemble?).
Some notable responses from participants in past projects include:
To play for people who only have a few days to live – a sad but at the same time immensely positive and important experience for me! (Simon, jazz trombone student)

I was impressed how fast everybody was inside the music. (Desiree, nurse at the palliative care ward)

These projects are so important – low threshold, music as communication. (Günter, participating teacher)
With regard to MiMiC, important outcomes of the research show a kind of pyramid, building up from participation to compassion, and from there to excellence. These three areas are important for musicians and health care professionals alike. For musicians, artistic excellence is naturally of great importance, but it is equally important in this context to show 'situational excellence.'
As a further important outcome of MiMiC, Prince Claus Conservatoire's Lifelong Learning in Music developed a new music practice and training for professional musicians. To this end, Masters students of the Conservatoire have participated in a number of pilot projects. Since January 2019, Masters students of Prince Claus Conservatoire can choose participation in MiMiC as an elective.
---
This article is a part of the publication titled How are diverse cultures integrated in the education of musicians across Europe? Other chapters can be found here.
Works cited
European Commission: Study on Audience Development. How to place audiences at the centre of cultural organisations. Guide part II – Rules for Audience Development: Key recommendations. European Union 2017
Lifelong Learning in Music (www.lifelonglearninginmusic.org)